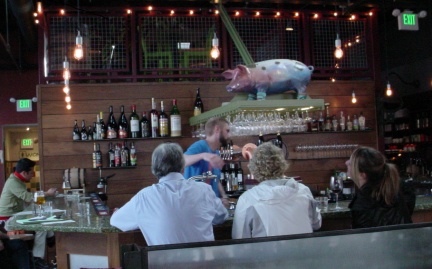 Alla Spina
1410 Mt Vernon St
Philadelphia, PA
(215) 600-0017
Alla Spina, meaning "from the tap", is an Italian flavored gastropub with an excellent beer bar just off of Broad Street.
The large modern bar seats about 20, and many more patrons can be seated at the numerous tables of all sizes.
Two big screen TVs are there if you need them, but are certainly not intrusive.
The taps number 20, and all rotate.
There are also 50-60 bottles offered.
A Saison-fest was going on, and about half of the taps were Saisons.
Late in the afternoon on an Easter Sunday, all the bar patrons were drinking draft beer, and seemed knowledgable about their selections.
Needless to say, Tim, our barkeep, was also quite helpful with anything we needed to know about beer or the neighborhood.
Alla Spina has themed beer flights which vary by the day.
The prices were given for all the draft beers on the beer list, and my Victory Saison was delicious and reasonably priced.
Be careful with the mixed drinks, though.
These were surprisingly pricey.