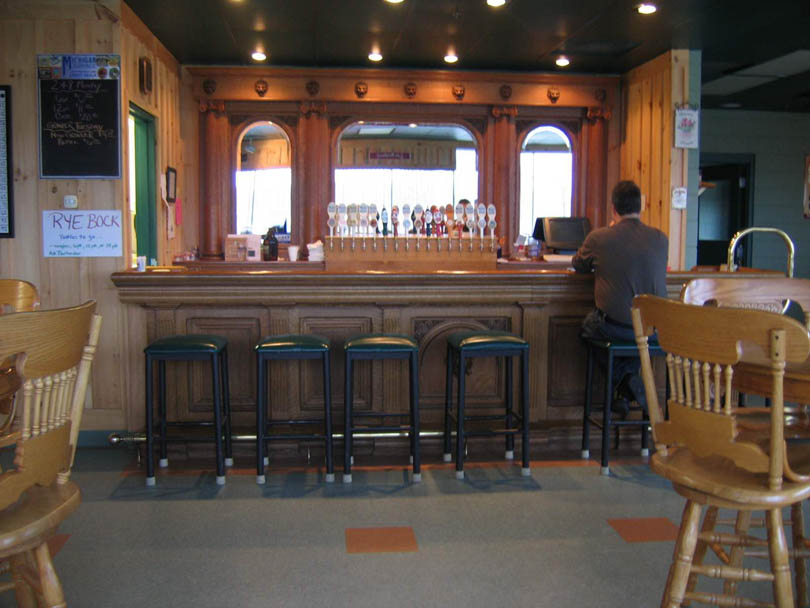 Michigan Brewing Company
1093 Highview Drive
Webberville, Michigan 48892
Tel: (517) 521-3600
Founded in 1995, Michigan Brewing Company housed its brewing operation and brewpub until recently in a log structure in rural Webberville. The brewpub had a friendly, cozy atmosphere that seemed to beckon on cold Michigan winter nights, where peanut shells were strewn on the floor and friends could quaff a wide assortment of hand-crafted brews. Owing to their commercial success as brewers, Michigan Brewing Co. outgrew this rather quaint structure, and recently moved to a huge new industrial park building nearby.
On a recent visit, there were just a few regulars in the brewpub on a summer weekday afternoon, although that is not surprising, given the time of day and the rural setting. Owing to the time of day, none of the food was sampled, but the fare looked to be of the basic burgers-and-fries variety. Michigan Brewing Co. has two lines of beer – one that is marketed under its own name, and a full line of Belgian-style beers that goes to market under the Celis brand. Representative samples of each were tasted, and based on the last visit nearly 7 years previously, it is obvious that this brewer has gone from good to great. There were 16 brews on tap – 12 with the MBC label, and 4 Celis offerings.
Also sharing the space with the brewing operation and brewpub is a large fully stocked homebrew supply retail store, ("thingsBEER"), as well as a Michigan State University Bio-Refining Training Center. The bio-fuel produced there provides the heat needed by MBC's brewing operation during the cooking stage. MBC's beer is currently distributed in about a dozen states, and plans are said to be underway for opening a second location in the University town of Lansing. As the company continues to expand based on its excellent beer, the sad fact is that the old log cabin pub might be preserved only in the memories of its patrons.