The Quest for the Holy Grain

Beer Events
This page consists of a pictorial review of
Fests, Tastings, and other Beer Events around the world.
Internationales Berliner Bierfestival

Berlin - August 7 thru 9, 2009

In the summer of 2009, the Quest for the Holy Grain sent Foamee, our prolific international correspondent and beer drinker, to cover the Berlin Bierfestival.
The annual
Berlin Bierfestival is held the first weekend in August just outside of downtown Berlin, on a wide, treelined boulevard, and lasts for three days.
| | |
| --- | --- |
| | In a one-mile long, parklike setting there are over 300 beer stands and more than several food stands. Admission is free; beer is sold by the glass, or if you prefer, bottle. |
| | |
| --- | --- |
| As one would expect, wurst were very popular. There were wurst of every style, from pork... | |
| | |
| --- | --- |
| | ...to horse! |
| | |
| --- | --- |
| There are stages set up every half block or so with continuous music playing until late at night. The 300 breweries are arranged in twenty groups, mostly by German State, so that similar beer styles are together; ie, all of the Bavarien beers are together. This is not really a tourist district, but there are a few hotels nearby. | |
Hops, Vines, & Wines Festival
Selinsgrove, PA
July 18, 2009

The city of Selinsgrove, PA, hosts the Hops, Vines, & Wines Festival in the center of the city. Hotel shuttle buses bring guests to the front entrance and pick them up after the fest. A blocked off street and an adjacent parking lot provide adequate space. Ticket sales are limited, so there are no crowds and no waiting.
24 mostly local breweries as well as 4 wineries pour unlimited samples. Volunteers wander around with baskets of free large pretzels. Other volunteers keep ice bins filled with bottled water, and still others collect trash from the bins.
The food...barbeque beef and pork, pizza, pita sandwiches, and sausage sandwiches, was all free. There were about 15 port-o-pots subtley located in a corner...no lines, no waiting. This is a very well- organized event, and well worth the effort to attend.
SAVOR, An American Craft Beer and Food Experience
National Building Museum
401 F Street NW
Washington, DC 20001
www.savorcraftbeer.com
May 30, 2009

3,000 = number of people it felt like were in the National Building Museum, the most beautiful and adult venue ever for a beer party
1,700 = number of tickets reportedly sold
136 = number of craft beers served (see 40 below)
95 = number of dollars it cost for a SAVOR ticket
68 = number of craft breweries participating (give or take), including the usual cast of craft brewing rock stars as well as a respectable number of lesser-known but equally talented local brerwers from across the country
40 = number of different beers I sampled (give or take, see 4 and 3 below)
35 = number of appetizers paired and served with the beers (give or take)
21 = number of years old you had to be to get in the door
20 = number of dollars it cost for a SAVOR "salon" ticket, which had nothing to do with hair or nails but put you in the presence of craft beer royalty in a cozy setting (with their beer of course)
9 = number of educational and private tasting "salons" offered
4 = number of beers I sampled in a "salon" (Cult Beers from California, by Tomme Arthur, Lost Abbey Brewing and Vinnie Cilurzo, Russian River Brewing)
3.5 = number of hours SAVOR lasted
3 = number of beers I had more than one sample of (Moon River Rosemary IPA, Harpoon Leviathan Imperial IPA, and Russian River Beatification only because I couldn't believe it was that outrageous)
2 = number of beers offered by each brewery, the number of ounces in each serving of beer (more give than take), and the number of bathrooms on the main floor (up from one at last year's venue)
1 = number of seconds you should hesitate to buy a ticket for next year
0 = number of U.S. beer events better than this (OK, toss-up with GABF)
1st Annual Clipper City Beer and Oyster Fest
February 27, 2009
The gala event was held at the Clipper City Brewery located on the cusp of Halethorpe and Landsdowne. The crowd was limited to a select 300. Clipper City had about 6 of their beers on tap, and they tasted as fresh as if they had been made there.
The lines to get the oysters were very long, and it was hard to tell which line you were in. There were five or six different varieties. The food line was long, too. But everyone was having a good time, and the freely flowing brew made the wait more palatable. It didn't help things when one of the three portable toilets gave out.
The skill of the shuckers surely made things run more smoothly. Blue Point oysters were the most in demand, but the lines were much shorter for Chincoteagues and Choptanks. All in all, it was a great evening, and it was once again proven, that great minds drink alike.
World Beer Festival, Raleigh, NC
April 26, 2008
If you like people, you'll love the World Beer Festival in Raleigh, NC. Held in scenic old Moore Square in downtown the festival is convenient to hotels and eateries. By noon the line was so long one could literally not find the end of it as it snaked around Moore Square. Strategy 1 is to wait until 12:30 to show up for the event. Let the anxious lines (will they have enough beer?) clear first.

Once inside there were two large tent areas serving about 400 different beers from 118 different brewers. There were half a dozen or so tents selling food (pizza, brats, Indian, turkey legs, and the like) and another half dozen or so tents selling beeraphenalia. A band played all day long on the open air stage. There was a tent with seating for those weak enough to need food and another tent for the All About Beer Magazine lectures. General admission tickets were $42.50 with fee and the event sold out.

You are awarded a four ounce plastic glass on entry and make your way through the crowd to the table and beer style of your choice, where they pour you a two ounce sample as often as you like. If the fun is drinking the different beers you will not be disappointed. By reputation and word of mouth this is second only to the Denver Great American Beerfest in size. If half the fun is talking and learning about the different beers you'll be disappointed as most booths seemed to be staffed by volunteers rather than the brewers representatives.

Belgian ales and styles were easy to find and there was a surprising number of Belgian, British and German breweries there. Most tables poured the beer from bottles but taps were plentiful. There was rarely more than one person ahead of you in line but as soon as people go their beer they stood to talk and drink it. That made navigation a bit of an effort and the din inside the tents was at times deafening interrupted by a wild Animal House cheer each time a brewer dumped empty bottles into the trashcan. It was a giant frat party punctuated by the shortest skirts and the largest breasts on the planet.

The biggest surprise was the large number (18) of NC breweries and their vast array of beer styles. If some brewers did not hold back stock for the second session in the evening it would have been a disappointing session. Lion Beer from Sri Lanka was a pleasant surprise with three tasty entries, Sri Lanka, who knew?

Strategy 2, do not drive, go to one session not two and get plastered then retreat to one of the local haunts—the Flying Saucer is a good choice—to have a bite to eat and some recovery beers. I felt like an over stimulated child at Christmas. There was too much going on in too small a space to begin to absorb it all. You become a cell in an organism at an event this big, if you do not like crowds grab a mixed six pack and a variety of cheeses and stay home.

http://phillycraftbeerfest.com/index.html
On March 3, 2007, the first Philly Craft Beer Festival was held at the Philadelphia Cruise Terminal. About 45 craft brewers were in attendance with approximately 120 different beers to sample.

Spirits ran high in the City of Brotherly Love as nigh on to 2,000 ticketholders filled the hall with one goal...to sample a vast array of delicious microbrews and selected imports.

As of December, 2006, there were over 1300 craft breweries in the U.S. The Brewers Association defines craft brewers as "small traditional and independent brewers who produce primarily all-malt beers."

You know what they say in Philadelphia..."American beer starts here!" Philadelphia and her suburbs are home to multiple microbreweries, a bounty of superb beer bars, and a large, still-growing number of brewpubs.

William Frampton was Philadelphia's first English brewer, establishing a brewery on Walnut Street in the late 1600's. Philadelphia made PA into the continent's leading brewer, brewing more beer than all the other colonies combined.

According to Philadelphia's citypaper, "Philly consumes more Belgian beer per capita than any city outside Belgium."

With so many brewers, the Fest-goers didn't have to wait long for a 3-4 oz. sample. The brewers were glad to provide information about their products and brewing styles.

The vast majority of patrons said that they can't wait for next year's event.

For more info on Craft Beer Festivals: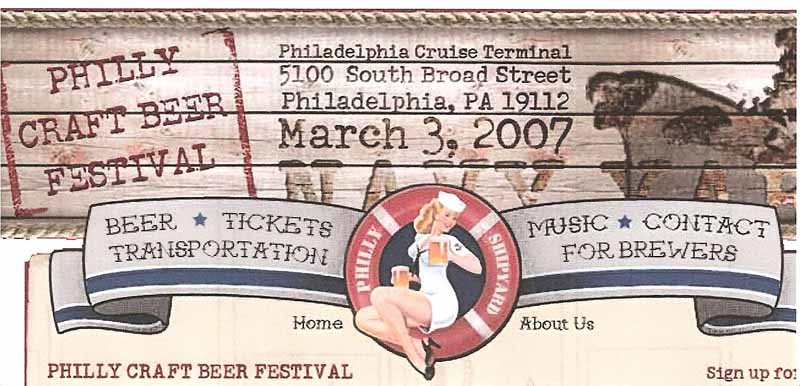 Great British Beer Festival: August 1-5
Earl's Court, London
| | |
| --- | --- |
| The Great British Beer Festival was held at Earl's Court and was the biggest festival so far with over 450 real ales and over 65,000 visitors. Also known as the Biggest Pub in the World, the festival played host to a wide range of beers and real lagers from the UK and around the world. | |
| | |
| --- | --- |
| | To cover this event, The Quest for the Holy Grain dispatched Foamee, international bon vivant and beer drinker, to London. |
The CAMRA GBBF is held in the largest exhibition venue in Britain. A £7.00 fee gets you in. They will loan you a 20 oz. glass for a £3.00 deposit. The beer costs £2.00 to £3.00 per pint. A half pint costs half that.
The hall is set up in four different squares, with lots of seating in between and around the perimeter. Two of the squares are dedicated to local ales. Each side of the square is divided in half; each half represents one area of Britain. Each area has about 25 taps.
Another square is dedicated to concessions, and concessions are along the perimeter. The fourth square is all local breweries and pubs, selling their wares. They will stamp hands for return entrance allowing for customers to go home and nap.
Participants could try their skill in pub games, or just drink with other beer lovers. In all, about 300,000 pints were poured during the Festival.
BrewExpo 2006 - State College, PA
The State College MicroBrewers and Importers Exposition was held during two sessions on Saturday, July 22. Present were roughly 40 groups of representatives from brew pubs, microbreweries, and importers, dispensing beer from taps and bottles.
All in all, there were well over 100 different kinds of beer to sample
Beer was dispensed in a souvenir glass at the rate of about 3-4 ounces.
There was no limit, and revelers were encouraged to drink responsibily.
An all-you-can-eat buffet was included.
For more information, contact:
State College MicroBrewers & Importers Exposition July 22, 2006
Rogue Weekend at the
Frisco Grille & Cantina

Beer guy Noel Johnson worked on this one for six months...and it finally paid off...especially for Frisco's beer-loving patrons. 25 kegs from Rogue Ales in Oregon made their way to Columbia, MD, and went on tap over the weekend of May 19-21. Several of these brews had never appeared on tap in the East before. At right, Noel and Patrick work extra hard to slake the thirsts of their customers.
The Maryland Brewers' SpringFest
at the Great Frederick Fairgrounds
May 13, 2006
On May 13, 2006, BAM (Brewer's Association of Maryland) held its 3rd annual Spring BrewFest at the Frederick Fairgrounds in Frederick, MD.
This well-organized event is a MUST for lovers of craft beer, with booths set up both indoors and out, continuous live music, and a variety of other vendors present as well.

With over 50 beers, the 13 brewers offered tantalizing choices among a wide range of styles, all exceptionally fresh.
The party began at noon and lasted till 8 p.m., for those hardy enough to last that long.
For $20, you got the requisite souvenir mug and 6 tokens, with additional tokens available for $1 apiece. Each token got you a sample; 3 got you a 10- ounce mugful.
Despite the affable and good-sized crowd (which included all ages), lines were short and moved swiftly.

There was also plenty of room to sit down and enjoy a Maryland-style crab cake or a steak sub between tastings.
This event is definitely worth traveling to and the Quest for the Holy Grain would recommend spending the night at any of several inexpensive motels within minutes of the fairgrounds, for those without a designated driver.
TAP New York '06
Craft Brew & Fine Food Festival
Hunter, New York
April 29-30, 2006

This beer fest was held at Hunter Mountain, a ski resort in the Catskills. It was the nicest beer fest we've been to. They used the ski resort bar room, cafeteria, and conference center, as well as having two fair- sized tents outdoors. The forty brewerys were spread out, mingled with food stations as well as vendors. Cocktail-type waitresses wandered around with trays of specialty foods. To encourage drinking ALL of the brews, they had stickers to collect in a booklet. (Though the prizes for completion were really lame.) Since it was 5 hours long, we sat outside in the sun, sipping our beers and looking at the snow on the slopes.

"The parlour is cold, the beer is warm; God have mercy on the landlord"

...Gregorius Wagner, 1547