Foamee
Foamee Specializes in American Microbrews
Being an authority on the beers of New York State, Foamee has mapped out a brew trail to Syracuse.
1) Find a designated driver who wants to go to Syracuse.
2) Proceed N. on I-83, and up Rt 15. Stop at Selins Grove Brewing in Selinsgrove. It's worth the trip. Next, continue on to Williamsport and the Bullfrog Brewery. Then on to Corning and the Market Street Brewing Co. Get on Rt 13 and drive up to intercept I-81 at Cortland. You will pass the Ithaca Beer Co. They have a mini-tour with samples and six- packs for sale.
In Syracuse, you will want to stop at the Armory Square area. Visit the Syracuse Suds Factory, a brew pub with about 7 of their own beers. They have a dance floor, bands, and lots of kids. Farther down from that is the Blue Tusk, with about 65 different taps, and a kitchen for pub grub. Across from Blue Tusk is Empire Brewing Company...a great brewpub.
If you have time for a side trip, I recommend driving up to Oswego. There is a great bar called Greene's Ale House, a small beer bar with 21 taps, one of most every style of beer, and a small kitchen with good bar food.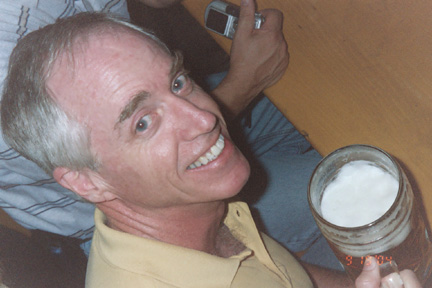 Foamee at Oktoberfest-Munchen, 2004